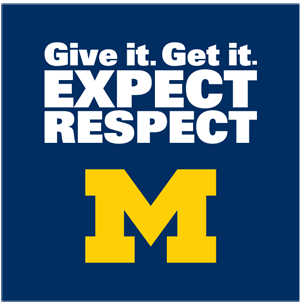 Contact Us
Email us at expectrespect@umich.edu
---
Partner with Expect Respect
Many student groups and campus units just like yours have joined the ranks of the Expect Respect community. If you have ideas of how we can partner on future projects, email us at expectrespect@umich.edu.

Get active! Request buttons, stickers, posters, and other materials here.

Support our efforts by donating!
---
Request a Workshop
Some of our common workshop topics are:

Cultural Appropriation

Social Identities

An Inclusive and Respectful Campus

Words Matter

If you don't see a topic that quite fits your needs, we may be able to create one together.

To request a workshop, please contact expectrespect@umich.edu. Please allow at least three weeks advance notice.
We don't want the change to stop here! We are very proud of the Expect Respect campaign and the positive changes we have seen on our campus. If you are interested in ways to bring Expect Respect to another campus or school, please contact expectrespect@umich.edu.